HEK293 Transient Production (Tuna293™ Process)
HEK293 cells have been the most popular mammalian transient production platform. The primary advantage of HEK293 cells is transfection efficiency. HEK293 cells are amenable to a variety of transfection methods and may offer distinct glycosylation patterns suitable for your studies.
Below is a graph of typical yields between our Tuna293 transient production platform, our TunaCHO expression system and other CHO transient expression system to show the difference in yields.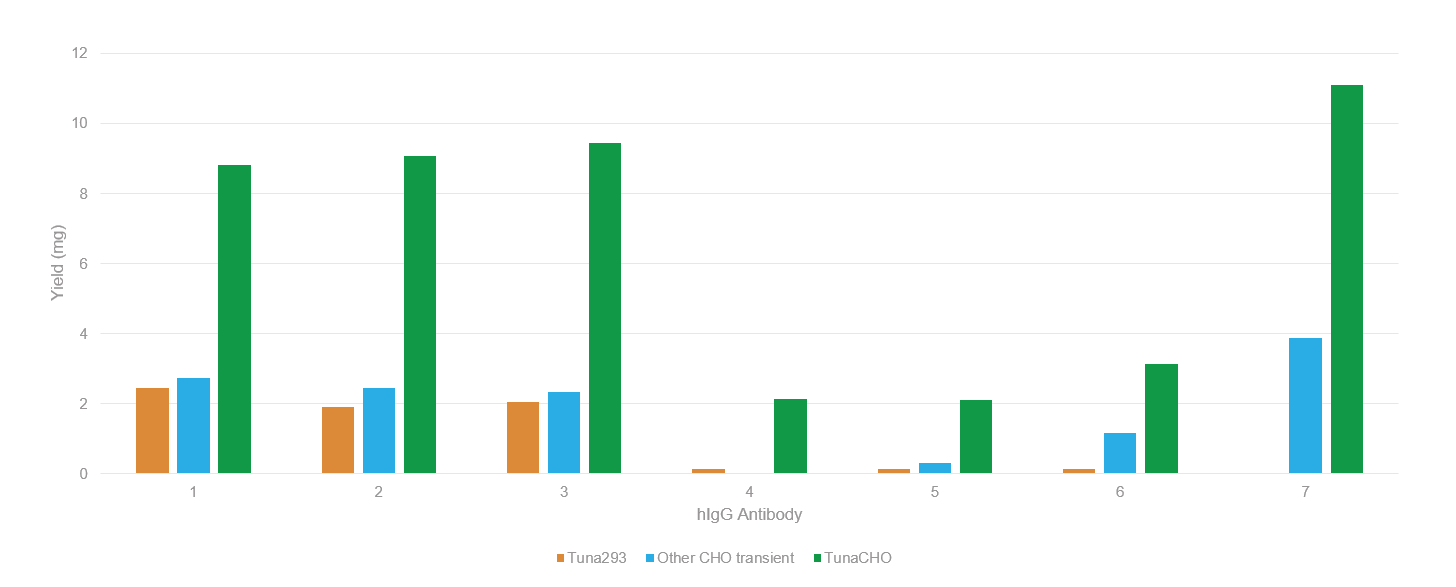 A variety of purification methods and production scales are available. Sample pricing is shown below.
| Catalog # | Name | Timeline | Price |
| --- | --- | --- | --- |
| 1146 | 0.03 L transient production in HEK293 cells (Tuna293™ process) and Protein A purification | 2 weeks | $1,200 |
| 1147 | 0.1 L transient production in HEK293 cells (Tuna293™ process) and Protein A purification | 2 weeks | $1,880 |
| 1148 | 0.25 L transient production in HEK293 cells (Tuna293™ process) and Protein A purification | 2 weeks | $3,240 |
| 1150 | 1.0 L transient production in HEK293 cells (Tuna293™ process) and Protein A purification | 2 weeks | $7,400 |